miércoles, 30 de diciembre de 2015
lea alguno o nadie aca, lo importante son los buenos deseos
Publicado por

ayjblog
en 11:15
1 comentario:

jueves, 17 de diciembre de 2015
Antes de Robinson Crusoe, antes de El señor de las Moscas, la realidad a veces es increible
Corre el año 1761 y
In 1776, 57 years after Daniel Defoe wrote Robinson Crusoe, eight people were rescued from a tiny, treeless island in the Indian Ocean. Seven of them, all women, had survived on the island for 15 years. The eighth, a baby boy, was born there.
The women were the remnants of a group of 60 people who were shipwrecked and then marooned on the scrap of coral and sand in 1761. They were abandoned, and then forgotten, 300 miles from the nearest land, for a simple, brutal reason. They were slaves.
Now, 230 years later, a team of French archaeologists has spent a month searching the wreck of the ship and excavating the flat, shelterless island. They have uncovered some of the secrets of how the castaways clung to life - and developed an elaborate community - on a fragment of near barren land, frequently swept clean by typhoons.
The archaeological investigation, sponsored by Unesco as part of its year commemorating the struggle against slavery, set out last October and November to uncover an almost-forgotten story of man's inhumanity to man. It discovered an extraordinary tale of human tenacity, determination to survive and capacity to organise in the face of adversity.
A French ship, carrying an illicit cargo of slaves, foundered near the island of Tromelin, east of Madagascar, in July 1761. At least 20 sailors drowned. So did 70, or more, of the slaves, trapped below deck because the hatches had been closed or nailed down.
After six months on the island, the remaining sailors completed a makeshift craft and escaped. They promised to return for the surviving slaves, but did not.
The castaways never gave up hope. They kept the same fire going for 15 years, with driftwood and wood from the wreck. They built houses from blocks of coral and impacted sand (the remains of which have been uncovered by the archaeologists). They built a communal oven. They survived on a diet of turtles, seabirds and shellfish.
Max Guérout, a marine archaeologist and former French naval officer, who led the expedition, said: "These were not people who were overwhelmed by their fate. They were people who worked together successfully in an orderly way."
"We have found evidence of where they lived and what they ate. We have found copper cooking utensils, repaired, over and over again, which must originally have come from the wreck of the ship."
"It is a very human story, a story of the ingenuity and instinct for survival of people who were abandoned because they were regarded by some of their fellow human beings as less than human."
Much remains to be found and M. Guérout hopes to lead a new expedition to Tromelin - once known as L'Ile du Sable, or Sand Island - next year.
M. Guérout has also followed a paper trail through the French and British archives of the period. He discovered, among other things, the log book of the Utile (Useful), the French ship which was wrecked on the island in 1761 with at least 150 illicit slaves aboard.
The island, claimed by both Madagascar and Mauritius, has been the site of a French meteorological station since 1953. In 1761, it was just an uncharted speck in the Indian Ocean.
In November of the previous year, the Utile, a former French warship, belonging to the French East India company, set sail from Bayonne in south-west France bound for the "Ile de France", now Mauritius.
France was fighting the Seven Years' War with Britain at the time. The governor of Ile de France was expecting an attack from India. He had banned the import of slaves, fearing they would be further mouths to feed during a siege.
The captain of the Utile dropped anchor at Madagascar nonetheless and bought at least 150 Malagasy slaves. When the ship resumed its journey eastwards, it was caught in a violent storm and ran aground on the submerged coral reef which breaks surface as the island of Tromelin.
A terse, dramatic account of the shipwreck, written by the ship's official log keeper, Hilarion Dubuisson de Keraudic, was discovered by M. Guérout in the maritime archives at Lorient in Brittany.
"The coming of day and the sight of land, which diminished our terrors, reduced none of the furies of the sea. Several people threw themselves into the water with a line to try to reach the land, to no end. A few reached the shore ... We had to haul some others back over the debris, where they drowned.
"We were terrified all the while because the [shattered] stern of the ship, on which we were standing, opened and closed at each moment, cutting more than one person in two."
Eventually, the ship turned its stern towards the shore, allowing the sailors to establish a rope-way to the island.
"All the remaining Gentlemen and crew were saved. Our losses were only 20 white men, and (two gentlemen) and many blacks, the hatches being closed or nailed down." The log book goes on to imply that almost a third of the 88 slaves originally rescued died because the sailors kept the meagre water supplies to themselves.
"We made a big tent with the main sail and some flags and we (i.e the gentlemen) lived there with all the supplies. The crew were placed in small tents. We started to feel very strongly the shortage of water. A number of blacks died, not being given any."
After a couple of weeks, the 122 "gentlemen and sailors" managed to dig a well. At the end of six months, they constructed a small sailing craft from the wreckage of their ship.
The makeshift boat was big enough for the gentlemen and sailors but not for the 60 remaining slaves. They left the captives with some food and promised to return. The Frenchmen reached Ile de France and tried to keep their promise, according to the log book and other French records found by M. Guérout.
The governor of the island, an official of the French East India company, refused to risk the loss of another ship for a group of unwanted and illicit slaves. There was a brief, public controversy in Ile de France. Several local dignitaries tried to persuade the governor to change his mind. He refused. The slaves were forgotten for 15 years.
How did they survive in such an inhospitable place? They had water from the well dug by the sailors. They had some basic cooking implements. The island is, to this day, a breeding ground for turtles and seabirds.
M. Guérout, creator of the Groupe de Recherche en Archéologie Navale, was, however, determined to find out more.
Colleagues warned him that little was likely to remain in the thin soil, or sand, of a flat island which lies in the path of the annual cyclones which sweep westwards across the Indian Ocean. Tromelin is almost literally a "desert island", with a few low bushes but no trees.
M. Guérout insisted that much must remain. He found intriguing references to visits to the island by Royal Navy vessels during the 19th century. The British sailors recorded seeing the remnants of "stone" houses and neatly arranged graves.
A team of 10 French archaeologists and divers lived on the island from 10 October to 9 November last year. Their findings have just been published.
Dives on the wreck of the Utile produced many interesting objects but nothing to advance the story. Digging in the shallow sand and coral of the island produced significant finds.
M. Guérout and his team uncovered the walls of elaborate dwellings, constructed from blocks of coral and from cement-like blocks of compacted sand. They found a large oven. They found remains of the turtles, birds and shellfish eaten by the castaways.
They found copper cooking utensils which had been repaired over and over by the marooned slaves, one of them at least eight times. "They mended them with other pieces of copper, using hand-made copper rivets, forged in the fire of the oven. We even found some of the rivets," M. Guérout said.
The archaeologists failed, to their disappointment, to find the graves mentioned in the Royal Navy records. "They are certainly still there," M. Guérout said. "When we return next year, we will bring better digging equipment and we will find them. Apart from anything else, the island provides us with a unique opportunity to study how a small group of people survived when plucked from their surroundings and left in hostile conditions. Mankind has always been a migrant creature and the island can help us to study the human capacity for adaptation which makes migration possible."
But what happened to the eight known survivors of Slave Island? Actually, there were at least 14 survivors and maybe more.
M. Guérout found French records of the official "debriefing" of the women removed from the island in 1776. They told their French rescuers that, at some point, a group of 18 of the Malagasy castaways made a raft or small sailing boat and left the island. It is not known whether they reached their home island 300 miles to the west or were lost at sea.
In 1776, a French sailor was shipwrecked on the island after spotting the slaves and trying to reach them in a small boat. He helped them to construct a raft and escaped to Mauritius with six people, three men and three women. Soon afterwards, a rescue ship arrived, captained by a nobleman called Tromelin. He gave his name to the island and removed the final group of eight survivors, including a family group of grandmother, mother and child.
By then, a new, more humane governor in Ile de France, appointed by the King of France, not the French East India Company. He insisted that the slaves were not slaves but free people, since they had been bought illegally. He adopted the family of three and gave the baby boy the name Jacques Moise.
"Jacques" was the governor's own Christian name. "Moise" is the French form of Moses - a baby rescued from water.
What happened to little Jacques Moise and the others after that? M. Guérout has searched the records in France and Mauritius without success. He believes that the two groups of known survivors from "sand island" - 14 in all - must have merged into the community of freed slaves in Mauritius. Their descendants are probably living there to this day.
Publicado por

ayjblog
en 14:48
No hay comentarios:

domingo, 13 de diciembre de 2015
Volviendo con un tema de actualidad, no, aca no, y afanado de Financial Times, pero muy bien explicado, como hace guita ISIS y no hay ningun inocente.
Todo esto mereceria que el ilustre nombre que titula el blog estuviera ahi, pero, seguro que hay muchos imitadores de Calouste Gulbekian (que, como es de rigor, murio dejando una fundacion) https://es.wikipedia.org/wiki/Calouste_Gulbenkian pululen por ahi
Disculpen la longitud y quizas los graficos, el original aqui
http://ig.ft.com/sites/2015/isis-oil/
y sigue aqui (para ampliar)
http://www.ft.com/cms/s/2/b8234932-719b-11e5-ad6d-f4ed76f0900a.html
Como siempre, dejas al mercado actuar y te vende riñones al mejor postor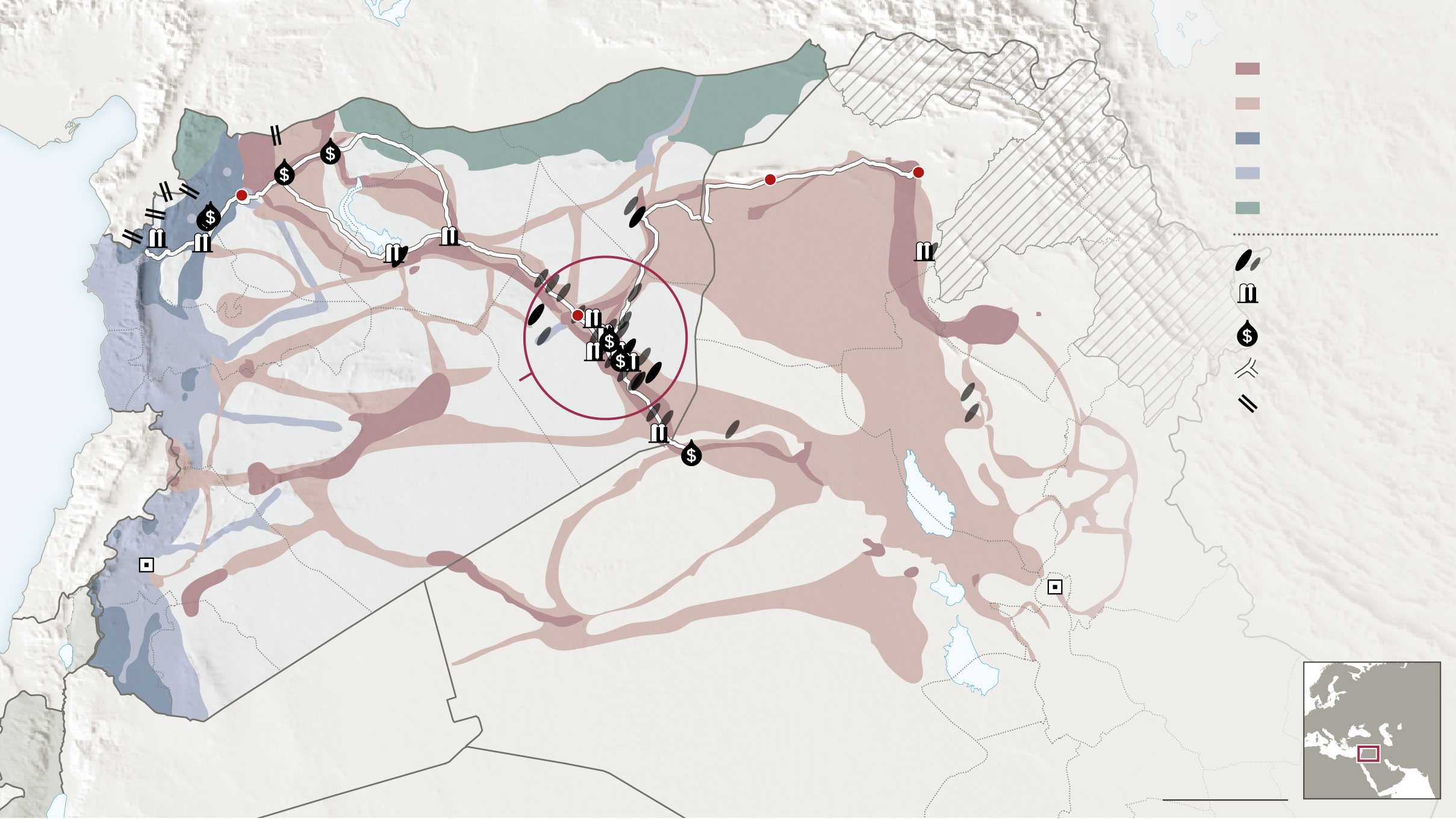 Isis controls most of Syria's oil fields and crude is the militant group's biggest single source of revenue. Here we follow the progress of a barrel of oil from extraction to end user to see how the Isis production system works, who is making money from it, and why it is proving so challenging to disrupt, even with airstrikes.
Where the oil is extracted
Isis's main oil producing region is in Syria's eastern Deir Ezzor province, where production was somewhere between 34,000 to 40,000 barrels a day in October, according to locals. This has since fallen due to coalition and Russian airstrikes against oil facilities. Isis also controls the Qayyara field near Mosul in northern Iraq that produces about 8,000 barrels a day of heavier oil that is mostly used locally to make asphalt.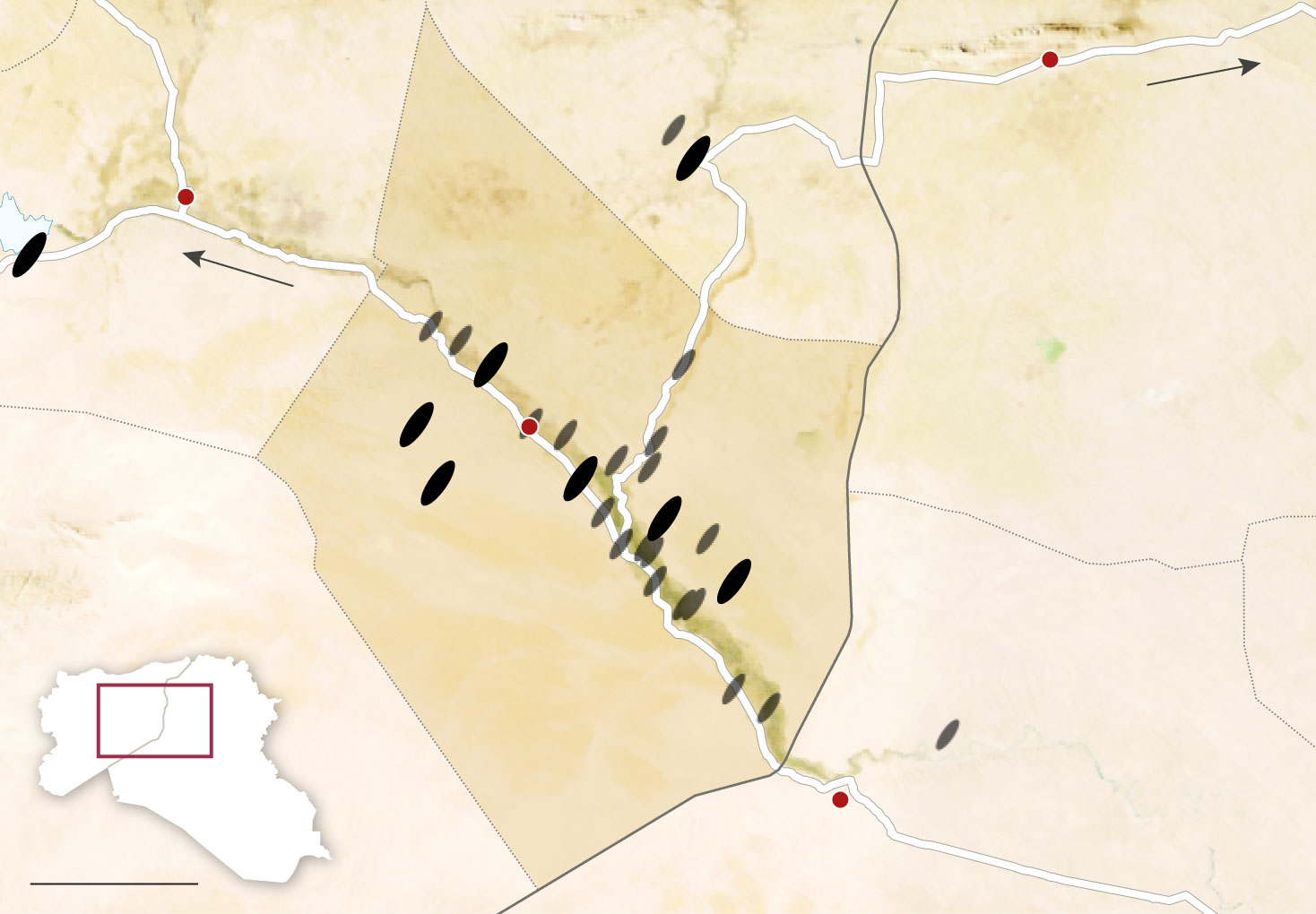 It is difficult to determine a definitive oil production figure for Isis-controlled areas. But it is clear production levels have dropped in the Syrian fields since they were taken over by the militants. Most oil fields in the area are aging and the group does not have the technology or equipment needed to maintain them.
A new air campaign on Isis oil by the US-led coalition started at the end of October and is now more effectively disrupting Isis's crude extraction. Production fell by 30 pct this month at al-Omar and al-Tanak, Isis's two top producing fields and the most targeted by the recent offensive. Up to now, however, it is still likely the most lucrative revenue stream for Isis's central leadership.
The price of the oil depends on its quality. Some fields charge about $25 a barrel. Others, like al-Omar field, one of Syria's largest, charge $45 a barrel. Overall, Isis is estimated to earn about $1.1m a day.
| Oilfield | Est. production (bpd) | Price ($/barrel) |
| --- | --- | --- |
| al-Tanak | 11,000-12,000 | $40 |
| al-Omar | 6,000-9,000 | $45 |
| al-Jabseh | 2,500-3,000 | $30 |
| al-Tabqa | 1,500-1,800 | $20 |
| al-Kharata | 1,000 | $30 |
| al-Shoula | 650-800 | $30 |
| Deiro | 600-1,000 | $30 |
| al-Taim | 400-600 | $40 |
| al-Rashid | 200-300 | $25 |
Selling crude oil
Though many believe that Isis relies on exports for its oil revenue, it profits from its captive markets closer to home in the rebel-held territories of northern Syria and in its self-proclaimed "caliphate", which straddles the border between Syria and Iraq.
The group sells most of its crude directly to independent traders at the oil fields. In a highly organised system, Syrian and Iraqi buyers go directly to the oil fields with their trucks to buy crude. This used to result in them waiting for weeks in traffic jams that sprawled for miles outside of oilfields. But since airstrikes against oil vehicles intensified, Isis revamped its collection system. Now, when truckers register outside the field and pick up their number in line, they say they are told exactly what time they can return to fill up to avoid a pile-up of vehicles and make a more obvious target for strikes.
Oil refineries
Traders have several options after they pick up their cargo:
Take the oil to nearby refineries, unload it and return to queue at the field—usually done by traders under contract to refineries.
Sell their oil on to traders with smaller vehicles, who then send it to rebel-held northern Syria, or east towards Iraq.
Try their luck selling to a refinery or sell it at a local oil market. The biggest are near al-Qaim on the Syrian-Iraqi border.
Most traders prefer to sell the oil on immediately and pick up a fresh number at the fields. They can expect to make a profit of at least SL3,000 (about $10) per barrel.
Traders in Syria's eastern Deir Ezzor province say coalition airstrikes have not targeted their trucks by as much the coalition claims, and say Russia has targeted them more aggressively. Instead the attacks focused on disrupting the extraction process - hitting around the wells or facilities at the oil fields, as well as Isis vehicles. The goal does not appear to be to hit the actual wells but impede efforts to extract from them.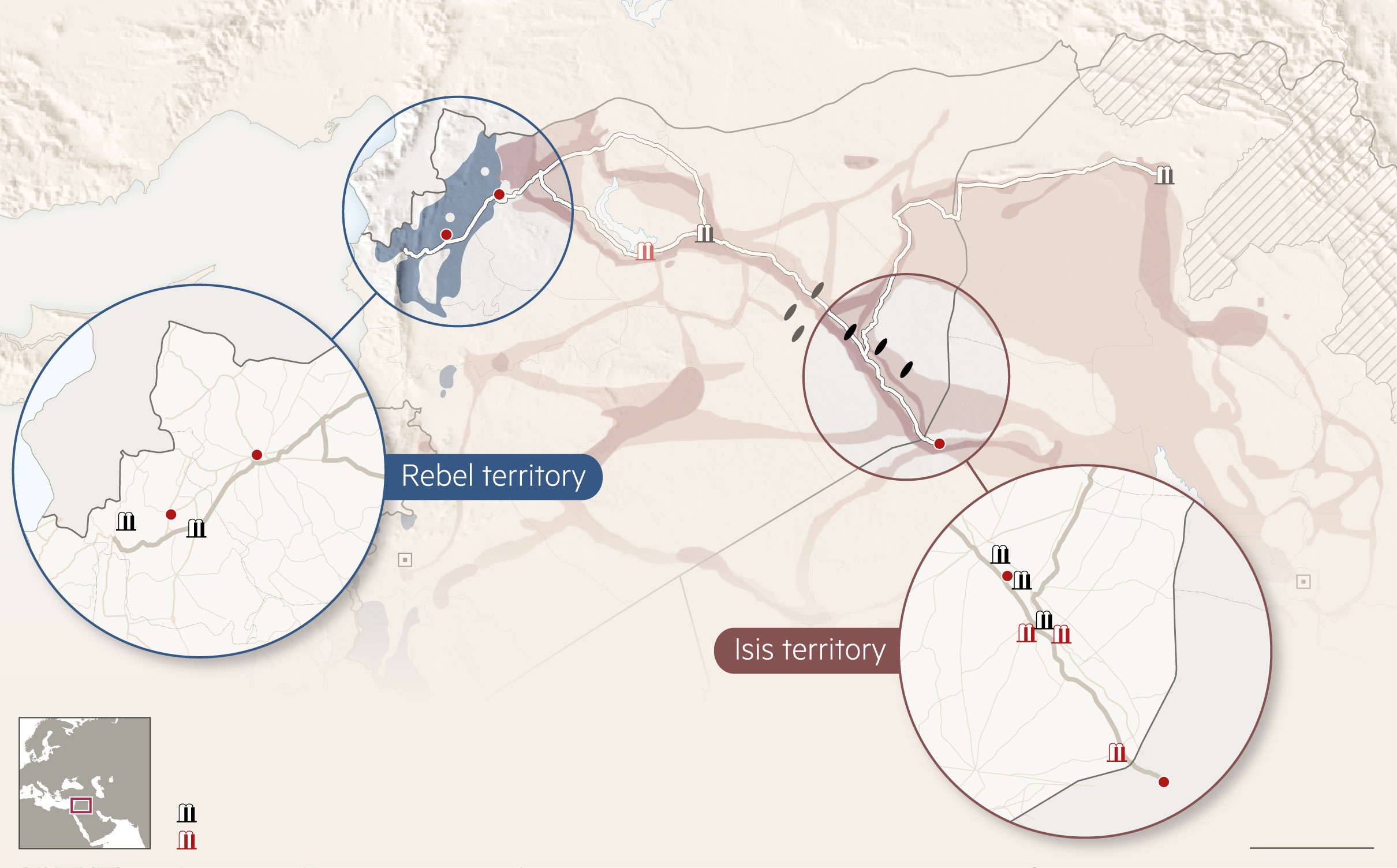 The bulk of oil refineries are in Isis-controlled Syria. The few in rebel-held territories have a reputation for lower quality output than the refineries in the east.
The refineries produce petrol and mazout, a heavy form of diesel used in generators – a necessity as many areas have little or no electricity. Because the quality of the petrol can be inconsistent and is more expensive, mazout is in greater demand.
Refining is done by local residents who constructed their rudimentary refineries after Isis's prefabricated "mobile" facilities were destroyed by coalition airstrikes. The owners make purchase agreements with the militants for their products.
There are also signs that in recent months Isis may have returned to refining. In interviews with traders, the FT discovered the group had bought five refineries since mid-2015.
At Isis refineries, the former owner stays on as a "front" man. The group supplies the oil; in return it takes all mazout production and splits the profits on petrol production with the original owner.
Traders say Isis has its own tankers that supply crude to its refineries from oil fields regularly. The group also appears to retain many of its earlier contracts with unaffiliated gas stations and other refineries.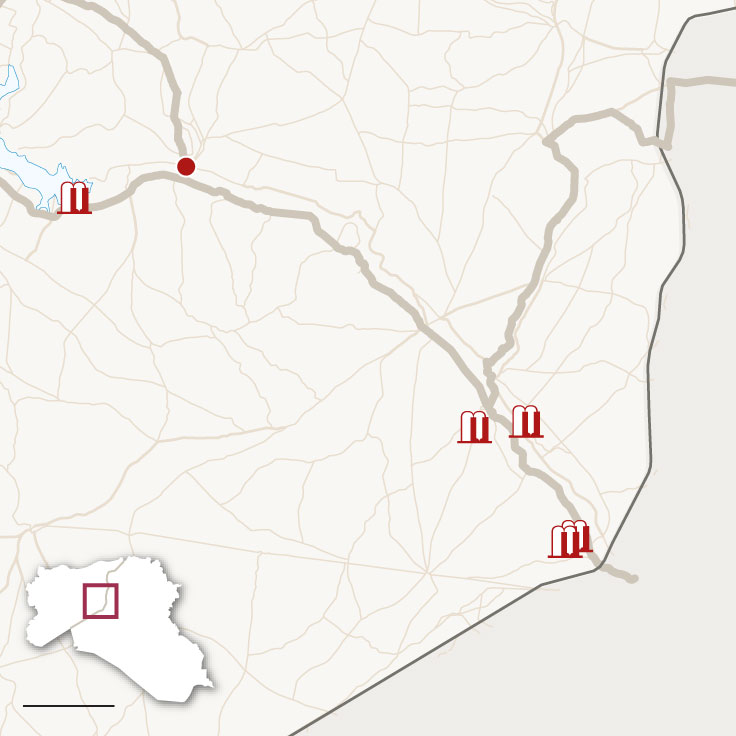 Fuel to market
Once the oil is refined, it is bought by traders or taken by dealers to markets across Syria and Iraq. At this point, Isis is almost completely disengaged from the trade. About half the oil goes to Iraq, while the other half is consumed in Syria, both in Isis territories and rebel-held areas in the north.
There are fuel markets throughout Isis-controlled areas and rebel-held Syria, often located close to refineries. Most towns have a small fuel market where locals buy and sell oil. But traders supplying these smaller markets often buy their oil in bulk from larger hubs.
Isis markets
There are larger Isis-controlled markets in towns like Manbij or al-Bab in Aleppo's eastern countryside. Traders here must present a document proving they have paid zakat, a tithe, to buy oil without tax. Traders from rebel-held Syria who have not paid the tithe, must pay a tax of SL200 per barrel, or about $0.67.
Some privately-owned markets also levy taxes. Al-Qaim market, one of the largest in the region, charges buyers and sellers about SL100 ($0.30) per barrel of crude purchased.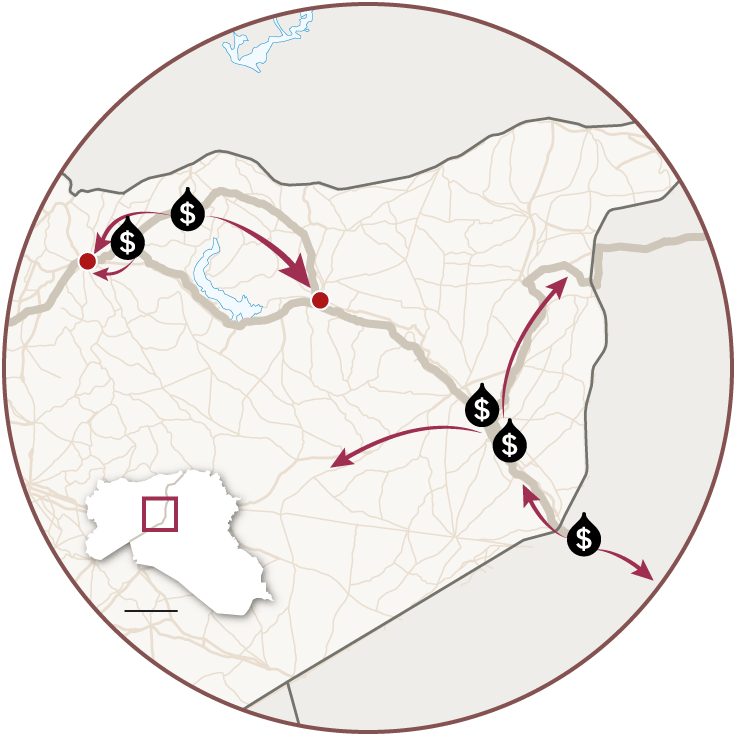 Mosul
In Isis-controlled Iraqi cities like Mosul, the fuel is sold at mini "petrol stations" with two pumps. They are ubiquitous on Mosul street corners and locals usually name the oil according to the part of Syria it came from. This helps buyers determine the quality of the oil and compare prices.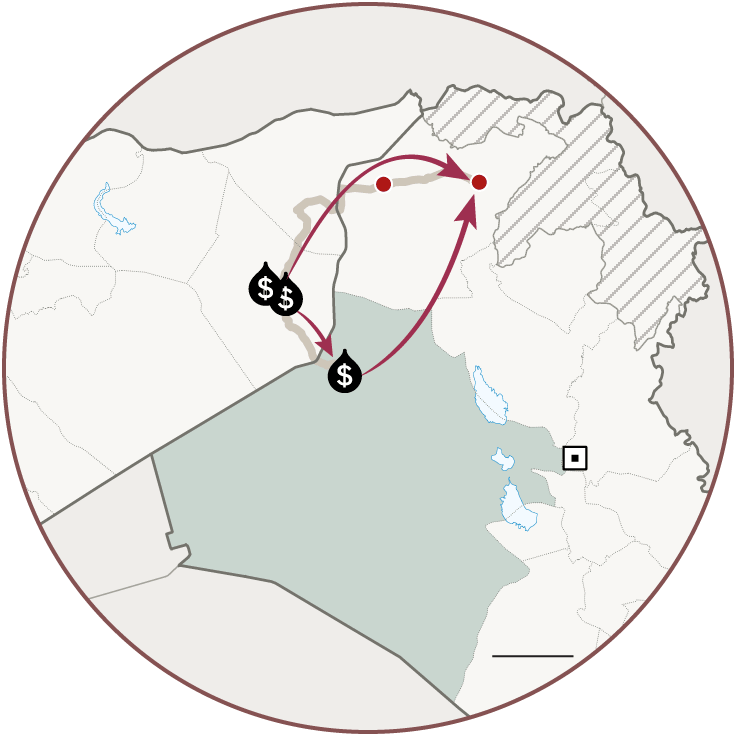 Rebel markets
Two types of fuel are sold in rebel-held Syria: pricier fuel refined in Isis areas, and cheaper locally refined fuel. Residents typically buy a mix of both, and use the cheaper variety for generators and keep better quality variety for their vehicles.
Since the airstrikes began, prices of mazout and diesel in rebel-held areas have doubled. Prices of food are higher as well because transport costs are rising.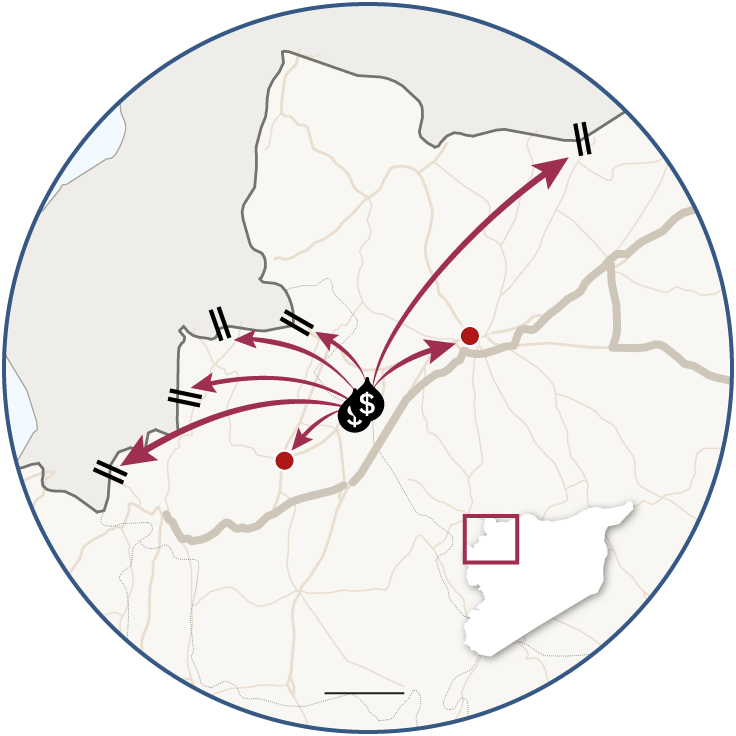 Fuel smuggling
With Isis only concerned with making its profits 'at the pump', smuggling fuel into neighbouring countries can be good business for entrepreneurial Syrians and Iraqis. Syrian smugglers say it has been declining in recent months, not because of tighter border controls but because the sharp fall in international oil prices make it unprofitable. But some determined smugglers continue their trade.
Most of the smuggling from the Syrian side has gone through opposition areas in the northwest. Locals buy fuel at the market, pour it into jerry cans and carry it over the border on foot or, in mountainous areas, by donkey or on horseback.
In Iraq, the bulk of smuggling through the northern Kurdistan region has been blocked, so locals say the route now goes south through Anbar province towards Jordan.

Boat

When oil prices were high, smugglers loaded larger jerry cans (50-60 litres) of oil into metal tubs or small row boats and, using ropes attached to each river bank, pulled their cargo across the river and into Turkey. On the other bank, tractors picked up the supply and took it to a local informal market, where it was picked up by large trucks, which sold it on.
Pumps
Some Syrian and Turkish border towns have co-operated by burying small rubber tubes under the border, such as at Besaslan. In recent months, Turkey has stepped up border patrols and are constantly digging out the makeshift pipelines.
On foot

A popular crossing point for smugglers carrying jerry cans of fuel on their backs has been from Kharbet al-Jawz in rebel-held Syria to Guvecci in Turkey. This has been largely shut down by Turkish forces, but the remote terrain makes it impossible to stop.
Horseback

In places like al-Sarmada and al-Rai, smugglers have crossed the border by mule, donkey or horses that can carry four to eight jerry cans at a time.
Airstrikes
At the end of October, the US-led coalition launched a fresh assault on Isis oil infrastructure. These airstrikes were followed by Russian attacks, and intensified in mid-November.
The coalition airstrikes against Isis oil operations have mainly targeted the oil extraction process, rather than refineries or oil markets. Bombs have hit Isis vehicles operating at the oil fields, and facilities for pumping or moving oil.
For example, the biggest single blow to Isis oil extraction, locals say, was a strike that took out the machinery that allowed oil workers to centrally control the wells at al-Omar field, Isis's single biggest oil source.
This had been critical because wells there can be 30km away from each other, and the machinery allowed workers to close down a well that was struck and avoid a fire spreading. Now, each well must be operated manually, which dramatically slows down the process of running the entire field.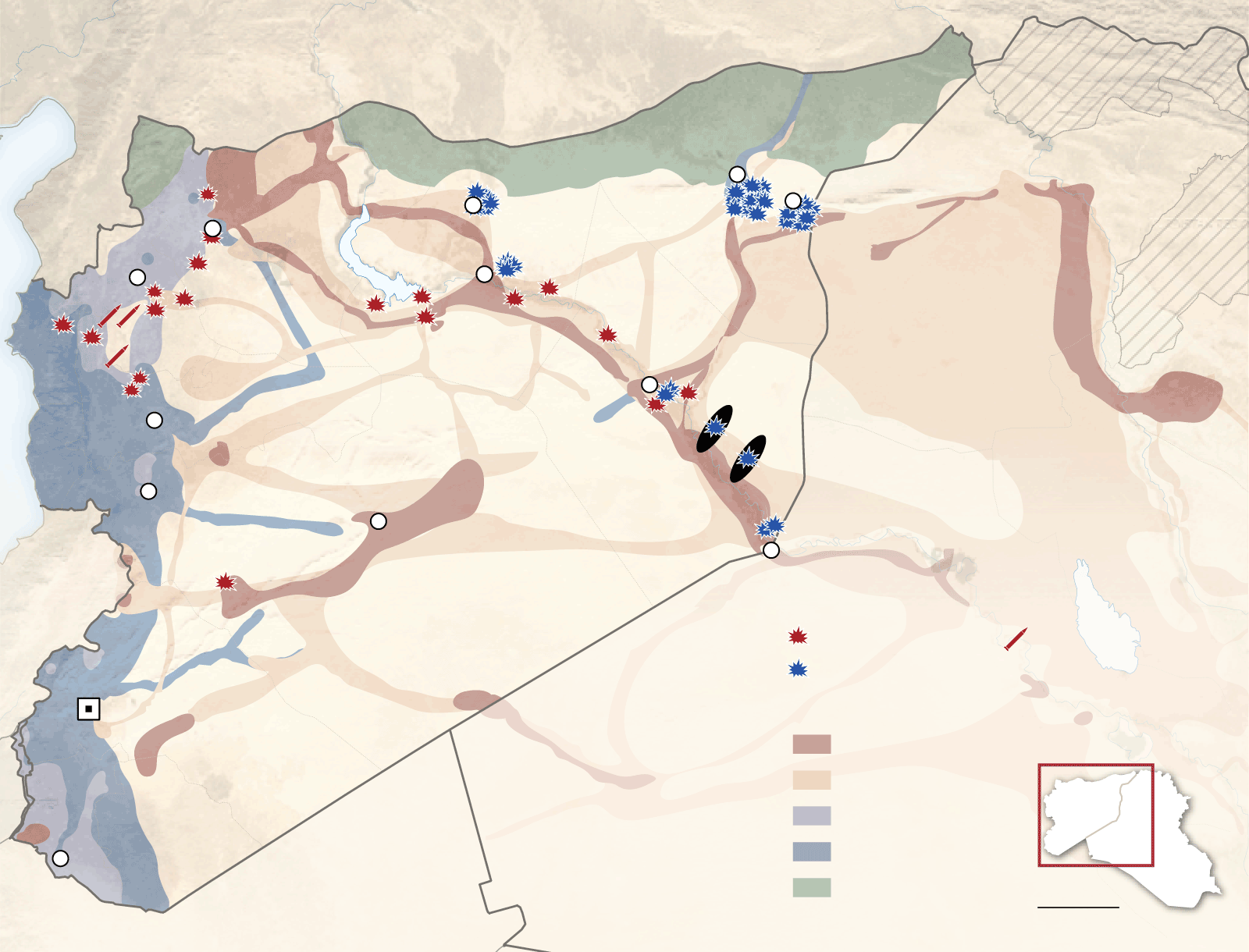 These efforts to stop Isis earning money from oil is starting to have an effect. Production fell by 30 per cent in December at al-Omar and al-Tanak.
But it comes at a human cost. Civilian traders have been hit by an increasing number of strikes. Local civilians are angry about the new campaign and they fear for their own economic survival, which is now entangled with that of Isis's finances.
"This is considered our infrastructure, and destroying it like this...shows that the objective is to kill the Syrian people," says Omar al-Shimali, who lives in the rebel-held Aleppo province to the northwest.
Publicado por

ayjblog
en 11:50
1 comentario: